A CMO's Guide To B2B Lead Generation
We have studied the trends and best practices that drive smart and savvy B2B lead generation campaigns. This eBook provides an overview of lead generation best practices and points of failure to guide CMOs and marketing decision makers.
Trends Covered in This eBook:
What is lead generation?
Relevant B2B marketing & lead generation statistics.
Common mistakes in lead generation.
Best practices.
Key metrics for success.
Specific lead generation tactics.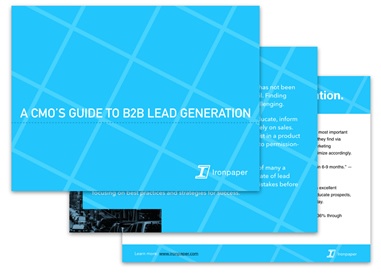 76% of B2B buyers leverage three or more information channels when researching a purchase.
- Blue Nile Research

Download eBook
We care about your privacy
65% of marketers feel that their marketing department could be doing a better job.
We Are Digital Practitioners.
Ironpaper NYC is digital and web agency based in New York. We specialize in web design, online marketing, web development and digital strategy. Since 2002, Ironpaper has provided high-value, digital solutions that drive business growth for our clients.
Ironpaper is a digital agency based in New York City and Charlotte, NC.
Ironpaper is a full-service marketing agency that partners with clients to achieve business goals using multi-channel and Inbound marketing.
We provide data-driven marketing solutions strategically designed to convert your existing customers, attract new ones and optimize for success.