Marketing Opportunities for B2B IoT Companies – eBook
A comprehensive guide on the opportunities, challenges, and best practices for IoT solution providers in the B2B space.
The Internet of Things is reshaping and defining markets, so much so that it has been dubbed "the next Industrial Revolution."
For businesses who harness this revolution first, they can reap a first-mover advantage in their respective markets. This radical shift brings vast new opportunities — if companies can overcome never-before-seen challenges for their buyers, build trust, and craft an educational sales pipeline.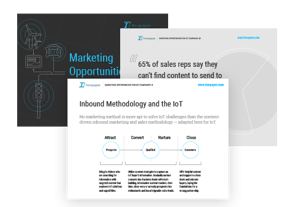 This eBook explores major strategies for IoT companies to:
Define value proposition for IoT buyers. Projects are costly, so buyers wonder: Why invest?

Overcome the education curve. In the emerging IoT space, stakeholders have varying familiarity with IoT systems, impacts, and risks.

Create touch points for a long sales cycle. Across B2B industries, the sales cycle has grown 22% longer.

Reaching multiple decision makers. Most B2B IoT projects have multiple decision-makers who influence the buying process.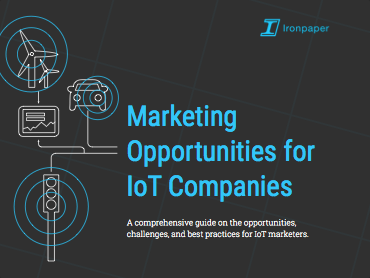 Download my IoT eBook→
We care about your privacy
Use these marketing strategies to turn IoT leads into educated, eager customers
For high-touch sales cycles — which are growing longer across all B2B industries — lead nurturing is key.

Download my eBook