Generate more B2B tech leads and close deals – eBook download
Download the free eBook to generate more B2B leads, streamline your sales process, and convert customers.
Use this 30-page eBook to discover proven digital marketing opportunities for B2B technology companies, as well as specific tactics on how to achieve them.
As you position your marketing message to advance and scale, consider this statistic: 60% of B2B marketers in North America utilize their customers as a source to guide marketing content.
In this eBook, discover tactics to tap into customer insights as an effective strategy for your B2B technology company.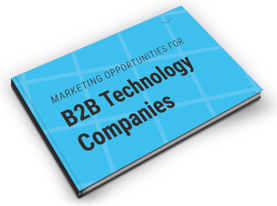 Master 7 critical tactics for B2B tech marketing, including:
Define a value proposition that maximizes conversion. Learn the simple formula to connect with buyer's value.
Utilize marketing technology for relevancy. Segmented emails deliver 100% more clicks than generic blasts.
Expand ROI with a marketing and sales alignment. Follow these best practices to close more deals, more efficiently, with strategic content offers.
Analyze efficacy of all lead sources. Find out which spends generate the most qualified leads.
Download this eBook and improve your sales outcomes today.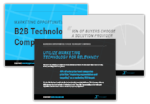 Download my eBook
We care about your privacy
Use these marketing strategies to turn tech leads into educated, eager customers
For high-touch sales cycles — which are growing longer across all B2B industries — lead nurturing is key.

Download my eBook